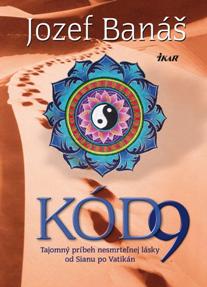 Code 9 is a fictive, fascinating as well as controversial story about an unusual journey: the main character Michal Kral embarks on the journey of his dreams to China, Tibet, Nepal and India. Before his departure, a mysterious Kumari entrusts him with a strange task – he is supposed to hand over nine artifacts on different places of the world. Like puzzle pieces they shall fit into each other and create one final symbol which establishes a new world order, a balance between masculine and feminine principles, the conciliation of all religions, the rule of unconditional love… The rich and powerful ones, for whom the current system of world order is convenient, however, try to thwart his mission. In the meantime Michal´s wife struggles with a malicious illness… The novel shows us that the most important journey each of us needs to undertake is a journey of knowing one´s own inner world.
"Code 9 will give rise to discussions. In quest for harmony between man and woman, the main character Michal goes on a journey through attractive destinations – starting from ancient Chinese Xi'an through Tibet, Nepal, India, to Vatican in order to find out that the most attractive place is his own inner Self. He searches and finds – himself. On a journey full of thrilling and extreme situations he recognizes that love and faith are not mere words but deeds. This realization helps him accept his personal load of responsibility.
The adventure we experience with this book does not solely convey an atmosphere of exoticism but leads us into the depths of humanity and its basic complementarity of masculine and feminine ways of human existence. Code 9 is a story about the quest for and discovery of a woman's dignity and mission. The book you are holding in your hands now is neither a collection of laments, nor an accusing document. Each period and each culture has sinned against women in some way. The author's view of Jesus and the church is very unorthodox. His Jesus is not dogmatic, but rather a symptom of an inner quest, which no generation, no individual can avoid.
The times we live in today literally call for a big story. That is what the author draws us in while making use of what is so attractive nowadays – a large portion of mysticism. I thank Jozef Banas for revealing us, men, and bringing us closer to our Selves. Code 9 will no doubt spark discussions."
Rastislav Dvorový, Catholic priest, Tiberias, Israel
World editions
Code 9
Original title: Kód 9
Hardcover: 360 pages
Publisher: Ikar (2010)
Language: Slovak
ISBN-10: 978-8055123608
Product Dimensions: 155×212 mm