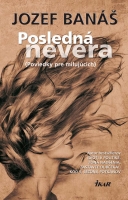 This unique collection contains a selection of short-stories some written back in 1984 and published in his first book Better Than Yesterday and other written in recent years. Most of the stories are based on real events many of them experienced by Jozef Banas himself.
My daughter Adela told me a story which I did not have the courage to write down. It was too sad. The story took place in the children's oncology hospital where the silver thread, bonding the twelve-year-old Adela to her life, was fading away. The girl was a wonderful dancer and if there had been no malignant disease, no doubt, she would have become a top artist. Adela was getting weaker every day; she watched her favourite TV show Let´s Dance from the hospital bed. The host of this show [my daughter], whose name was Adela as well, regularly visited the children's oncology hospital to share her joys and hopes with the kids. The girl's dream was to once wear such a beautiful dress as the famous fashion designer, Ferko Miklosko, had designed for the host. My daughter Adela asked Ferko for a favor and he designed the most beautiful model that ever left his studio especially for little Adela. 'You look like an angel', Ferko said while looking at the thin body in the gorgeous dress. 'May I keep it till tomorrow?' the girl asked. 'My mom will visit and I would like to wear the dress for her.' When her mother arrived the next morning, Adela was lying still. She had fallen asleep in her dream dress … for ever.
I would like to dedicate this book to that little girl. And to my daughter Adela as well. For her heart is open to the sick, old and poor… and even to defenceless animals.
Jozef Banas
Last Infidelity
Original title: Posledná nevera
Hardcover: 200 pages
Publisher: Ikar (2012)
Language: Slovak
ISBN-10: 978-8055130484
Product dimensions: 128×196 mm