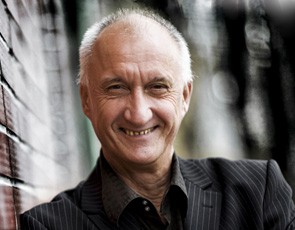 is one of Slovakia's most successful authors of the last decade. He is the recipient of many literary awards, both domestic and international.
His books have been translated into ten languages and he has presented them in eighteen countries. Banas' work has been recognized by the President of the German Bundestag Prof. Norbert Lammert, the most prominent Indian philosopher Prof. Satya P. Gautam, the Ukrainian writer Yuriy Scherbak, the Swiss Professor Josette Baer, the Czech talk show host Jan Kraus, the German opinion journalist Peter Pragal, and many others.
Dan Brown has called Jozef Banas a "seeker of the truth", and at a meeting in Kashmir in July 2014, His Holiness the Dalai Lama blessed Banas for his efforts to bring people closer together. He has published five movie scripts, three theatre comedies, thirteen books in Slovakia and ten books abroad.
Curriculum Vitae
Jozef was born in Bratislava, Slovakia on September 27th, 1948. And although he has traveled the world throughout his life, Slovakia has always remained his home where he works and lives with his wife Maria Banasova (a famous Slovak ceramics artist). He has two daughters, Maria Zinburgova (1974) and Adela Banasova (1980), and one granddaughter Natali.
After the completion of foreign trade studies at the Business College of the University in Bratislava, Slovakia in 1972, he worked as a top manager in the fields of foreign trade (Chirana export Piestany) and leasing (Raiffeisen – Tatraleasing), as well as in the tobacco industry (Reemtsma Hamburg – Slovak International Tabak). From 1983 until 1988, he served as a press attaché in the Czechoslovak Embassy in the German Democratic Republic and after the fall of the communist regime in 1989, he worked as the Czechoslovak Chargé d'affaires in Austria from 1990 until 1992.
In 2002, Jozef Banas was elected Member of the Slovak National Parliament (liberal party ANO). He achieved a major success in parliamentary diplomacy as he became the first Slovak Member of Parliament (MP) ever to lead two Permanent  Delegations of the National Council simultaneously – the Permanent Delegation to the Parliamentary Assembly (PA) of the Council of Europe and to the NATO Parliamentary Assembly. In 2004, he was elected the first Slovak MP to hold the post of the Vice-President of the NATO PA.
Literary critics talk about Jozef Banas as the man who has jumped on the train of Slovak literature at full speed, taking a seat right in the locomotive.
Membership
Slovak Writers' Society