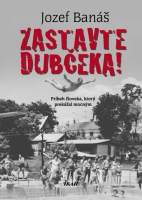 is a novel about one of the most famous Czecho-Slovak politician of modern history – leader of Czechoslovakia and reformation force of Prague Spring in 1968. It offers a captivating description of the social and political situation in 20th century Middle Europe and at the same time it reviews the work of a politician who, as stated by a former French President, long refused to let his conscience put to silence. The story is enriched with interesting facts about the life of the Dubček family and with many mainly fictional dialogues.
The brothers Milan and Stefan Dubček migrate to the USA, where Stefan meets the blue-eyed Pavlina, whom he marries later on. Their son Alexander Dubček is born in 1921, after the newly-weds' return home to Slovakia. The Dubčeks are enthusiastic about the new socialist movement and long to help building the arising socialist society. They decide to move to one of the most neglected areas of the Soviet Union, where the little Sasha (Alexander) meets his future wife Anna. After some time, however, the Dubčeks lose their illusions and return home in search of happiness. Here, Alexander Dubček's story begins –  he participates in the Slovak National Uprising against the Nazi occupation, assumes his political career, during which he attempts to establish a "socialism with a human face" and fails due to the Soviet invasion to Czechoslovakia. The novel reflects his life till his tragic death in a car accident, which still remains unresolved by authorities.
The book grabs you right after reading the first chapters; and any reader manages the 360 pages without problems. Jozef Banas says that unfortunately he made the observation of how little young people actually know about such a significant person like Alexander Dubček, and that this is one of the reasons why he decided to write this book – in good faith of contributing to the memory of a man who, as Banas sais, gave people hope in those days. Jozef Banas chose a wonderful way to raise interest for national history of those students who normally do not make friends with this field of study.
Ferko Kráľ
[…] 'Not another book about 1968, about hopes that were so gruesomely crushed and about the painful memories of the cruel normalizace,' I thought when starting to read Banáš's Stop Dubček! But I soon had to admit that this novel is both very well written and based on meticulous research. […]
Stop Dubček! is neither a work of fiction nor a scholarly analysis, nor is it a political biography, but something in between, a compelling account of the life of a Communist leader, who, unlike others, was actually loved by the citizens. Banáš's literary talent enables him to present the story of Dubček's life in gripping fashion. The pace of the narrative, the meticulous presentation of the facts, and the clear distinction between facts and the realm of interpretation make this novel a welcome new contribution to Czechoslovak history. And it reads very well; it is, especially for young people, an 'unputdownable' account of Czechoslovakia under Communist rule. Everyday life, domestic economic problems and in-party power struggles come to life as if one were watching a movie, with Alexander Dubček in the leading role. (If Hollywood were interested in making a movie about Dubček's life and his impact and role during the Cold War, I would suggest the Swedish actor Stellan Skarsgård as Dubček.) […]
This novel is a must-read for anybody interested in Czechoslovak history. And for anybody interested in the vividly told story of what shaped and drove one of the great heroes of the 20th century.
Prof. Dr. Josette Baer, University of Zurich, Switzerland
World editions
Stop Dubcek!
The story of the man who annoyed the powerful
Original title: Zastavte Dubčeka!
Hardcover: 359 pages
Publisher: Ikar (2009)
Language: Slovak
ISBN-10: 978-8055121079
Product Dimensions: 153×211 mm