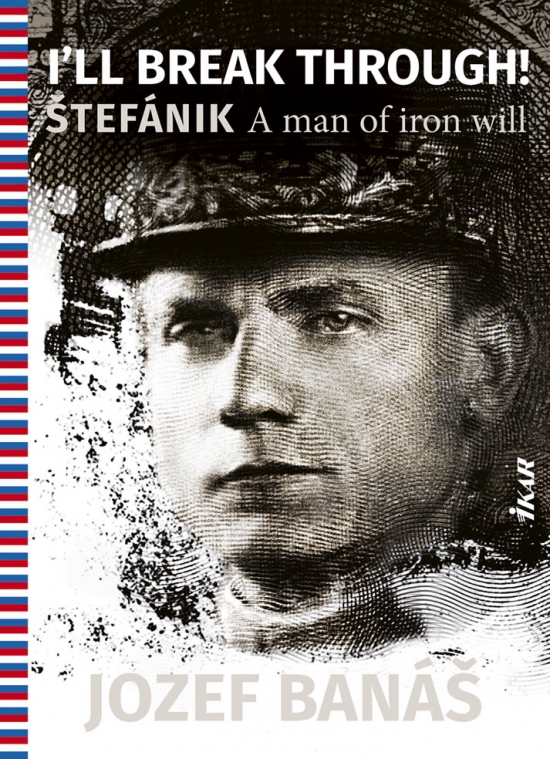 Milan Rastislav Štefánik was great not only for the Slovaks, but also for the Czechs and the French. A virtuoso in life and death, a magnificent example of a man who in every act surpassed himself. A man who went to the very limits of his strength to pursue his dream despite pain and adversity. The liberation of the Slovak nation was a work worthy of the measure of this man. His life was a composite of enormous faith, iron will and noble love for his nation.
In everyone there is a will to fly to the stars, but few manage to reach them. Only those whose desire is greatest can achieve this. While those lacking faith perished in the glow of street lamps, Štefánik managed to reach the stars.
The book I´ll Break Through! reveals Milan Rastislav Štefánik as a man of flesh and blood with desires, loves, visions, but also pain and sorrow. The reader will also learn new and unknown details from Štefánik´s scientific, military and political career. Jozef Banáš offers an immensly engaging and comprehensive view of one of the most important figures in Slovak history.
Marek Eštok, Ambassador of the Slovak Republic to the Council of Europe
The author presents in his typically engaging way the story of the greatest figure in modern Slovak history. It is a book which keeps the readers constantly engaged while giving them valuable historical accounts. I think that the novel should be of particular insterest to younger readers, giving them insight and information about an important period insuffinciently covered in school textbooks.
Ivan Šesták, co-founder of the Štefánik Memorial in Bratislava
Banáš´s documentary novel about M.R. Štefánik is a book that not only Slovaki literature has been waiting for but also Slovak historiography. Its hero is a Slovak star, who managed to soar among the stars of global politics and leave indelible traces there just as a new constellation of the world was taking shape. Of course, neither the winners nor the losers have forgotten him. And to understand this miracle, forgotten either through negligence or disrespect for the truth, took Jozef Banáš years of research. Now, the miracle comes to life before our eyes, in all its grandeur and tragedy.
Alexander Halvoník, literary critic
Josette Baer is a lecturer in political theory with a focus on Eastern Europe at the University of Zurich, Switzerland.
Original title: Prebijem sa!
Translated by: James Sutherland-Smith
Hardcover: 504 pages
Publisher: Ikar (December 2019)
Language: English
ISBN: 978-80-551-7092-3
EAN: 9788055170923
Product dimensions: 157 × 212 mm, 823 g