Press Agency of the Slovak Republic, June 19, 2019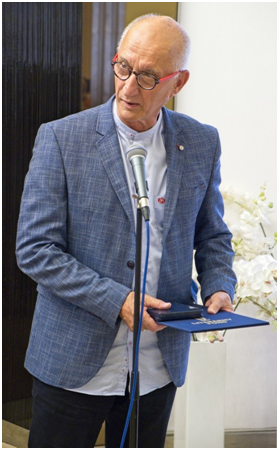 "I am deeply moved to have been awarded a prize which significant personalities of Slovak literature have received, such as Milan Rúfus, Rudo Sloboda, Pavel Vilikovský, Anton Hykisch, Anton Baláž. It is of great honour and pleasure for me," Jozef Banáš said for the Slovak Press agency.
On Wednesday June 19, 2019 the Literary Fund (LF) awarded prizes for literary works that had been published in the previous year. 77 original Slovak literary pieces including poetry, prose, drama, literature for children and young readers, non-fiction, scientific literature and essays entered the competition.
Jozef Banáš was named LF Laureate in original Slovak Literature 2018 for his novel Prebijem sa! Štefánik (I Shall Prevail! Štefánik). This documentary novel dedicated to the significant figure of Slovak and Czechoslovak history M. R. Štefánik was brought to the readers by the publishing house Ikar, which thus won Recognition by LF.
"It is a pleasure to me and I am deeply moved. Once I said that authors wrote in order to let their heroes engage in heroic acts which the authors themselves would not have the courage to do in real lives. In the case of Štefánik however, this was an exception; this man was fascinating. I assume this fact also contributed to the jury´s decision to award the prize for this book," Jozef Banáš said in his speech mentioning at the same time that it was not his ambition to compete with historians.
"It makes me extremely happy though that with this book we have managed to bring this hero closer mainly to the younger generations," the author added. "It is a piece of work which through its journalistic lightness and artistic persuasiveness carries the potential of appealing to the modern reader and offer a realistic and complete picture of the rebel, scientist, pilot, war hero, explorer, diplomat and ladies´ sweetheart as well as of his decisive role in the making of the Czechoslovak state," the jury´s evaluation of the work stated.
The Literary Fund Prize is the most important prize in literature awarded by the Slovak Literary Fund since the establishment of the Slovak Republic. "I am positively touched to have received a prize which has been awarded to such great figures of Slovak literature as Milan Rúfus, Rudo Sloboda, Pavel Vilikovský, Anton Hykisch, Anton Baláž… In literary circles it is called the ´Slovak Nobel Prize´. Together with my participation in the finals of the German Johann Gottfried Seume Literary Competition this prize is the most significant I have ever been awarded. I am extremely happy about it," Jozef Banáš said.
Curently, he is working on his first translation. "I have decided to translate an essay which was prohibited for hundred years. It is an essay written by the famous Stefan Zweig who serves as a literary model to me."